Cathy Anderson's Apple Page
Everyone needs a hobby, right? Well, one of mine is collecting apples. I think spending time on my grandparents' apple orchard near Quincy, Washington, was a big influence on my apple-collecting. My apple collection contains nearly 100 different apple items, including books, pins, charms, cards, and apples made from stone. I even have a tie with apples on it.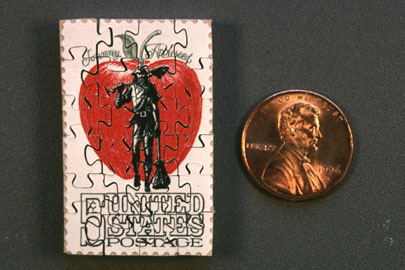 One of my apple acquistion was a real Johnny Appleseed postage stamp, glued to a small piece of wood and cut into a 24-piece jigsaw puzzle!
---
Some of my favorite apple recipes

Apple Variety Chart

Apple Cake

Award Winning!


Apple and Green Tomato Relish

Apple Crisp

Apple Pizza

Apple Chocolate Brownie

Apple Pudding in a Crock Pot
---
Cathy Anderson -- cathy@the4cs.com
Return to Cathy's Home Page